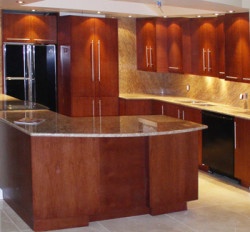 Serving homeowners throughout Long Island, Convenient Kitchen and Bath Design is a full-service remodeling contractor specializing in bathrooms and kitchens. We provide complete kitchen bath remodeling services in addition to basement finishing, and we can help ensure your remodeling project runs smoothly from start to finish. Combing expertise in renovation design as well as construction, our remodeling contractors are your answer for affordable, straightforward, hassle-free renovations. When you want the job done right, you want Convenient Kitchen and Bath Design. Our remodelling contractors in Long Island are committed to taking the absolute best care of every customer and every property. Experience the difference when you call today!
Full-Service Home Remodeling Contractors
From customized design to knowledgeable professionals, our remodelling contractors combine all the expertise you need for complete kitchen bath remodeling all under a single roof. Convenient Kitchen and Bath Design offers renovation designs and 3D modeling to help create the ideal space for your newly remodeled kitchen or bathroom, and our professionals have the skills to implement all aspects of the design. Unlike home remodeling contractors that have to hire subcontractors to get the job done, our team can perform everything from electrical and plumbing work to countertop and custom cabinetry installation. Our goal is to bring you the best remodeling workmanship and customer service at the best price. Let the Convenient Kitchen and Bath Design team make your renovation simple and hassle-free. Contact us now to learn more.
Bathroom Remodeling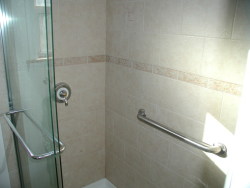 Whether your bathroom is seriously dated or you just want to upgrade to a fresh, spa-like feel, the bathroom remodeling contractors at Convenient Kitchen and Bath Design are here to help. We offer complete bathroom remodeling services to help you redesign your space to better suit your needs. From simply redoing the vanity, lighting, and other finishes for a decor update to completely gutting the bathroom and starting over, our bathroom remodelers can help you create the bathroom of your dreams. And our bathroom remodeling services will even add value to your home, increasing resale value down the road! A great option for increasing your enjoyment of your home today and recouping your investment later, you can't go wrong with a quality bathroom remodel. If you're ready to bring your bathroom into this decade with superior bathroom remodeling from Convenient Kitchen and Bath Design, give us a call. Our bathroom remodeling contractors are here to help you get the bathroom that's right for you.
Kitchen Remodeling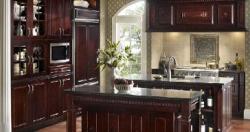 From meals to food preparation to just hanging out, the kitchen is the heart of your home. So why deal with a kitchen that's less than ideal? Get the kitchen you've always wanted with the kitchen remodeling contractors at Convenient Kitchen and Bath Design. Our pros can help you identify your kitchen remodeling needs and then bring our customized design to life with quality workmanship and products. Whether you just want to update the counter tops and floors or want to completely redo your kitchen with custom cabinetry, our kitchen remodeling contractors are here to help. Kitchens are the single most important room of a house when it comes to sales, so remodeling your kitchen is not only a smart choice for enjoying your home today, it can also help you sell years from now. Get professional kitchen remodeling results and hassle-free service when you call Convenient Kitchen and Bath Design today. Our kitchen remodelers are here to bring your dream kitchen to life.