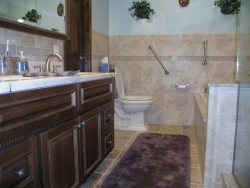 Does your powder room look like it never left the '70s? Is your master bath tricky to navigate as you age? Do your bathrooms leave something to be desired in terms of decor or functionality? If you're ready to upgrade to a beautiful bathroom that meets your family's changing needs, then Convenient Kitchen and Bath Design is ready to help. Our professional bathroom contractors offer complete bathroom renovation services, and we can make sure your bathroom is remodeled to suit your specific needs. A great way to add value to your home, bathroom remodeling can help you create a space that you can enjoy for years to come. Combining quality craftsmanship with quality products and expert bath design services, our bathroom remodelers can help you create the bathroom you've always wanted. Contact us today via phone or e-mail for personalized service and top-quality bathroom renovations!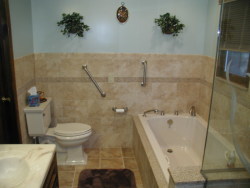 Specializing in bathroom renovations large and small, our bathroom contractors have the skills, experience, and expertise to bring you complete remodeling services. Unlike bathroom remodelers that have to subcontract out specialty work–increasing the cost, chaos, and stress–our team includes professionals skilled at electrical, plumbing, construction, and more. That means Convenient Kitchen and Bath Design can get your bathroom renovation done more affordably, more conveniently, and without creating additional hassle for you. We're your one-stop bathroom contractor that can handle the entire job from start to finish. We offer:
Custom bathroom cabinets and vanities
Decorative hardware
Countertop installation, including granite, Formica, and quartz counters
Tile installation (floors, tub surrounds, and more)
Showers and tub installation
Jacuzzi installation
Sink installation
Plumbing installation
Light fixtures and fans
Electrical installation
Flooring
Window replacement and installation
Drywall and carpentry
Painting
Handicap-accessible tubs, showers, toilets, etc.
We can even customize your bathroom remodel project to accommodate special needs: from walk-in tubs for the elderly to grab-bars for support around the toilet and tub to other specialized bathroom renovations, we can make sure your bath remodel meets the needs of every member of your family! Combining 14 years of experience as bathroom remodeling contractors, quality materials, and a dedication to taking the best possible care of our customers, Convenient Kitchen and Bath Design is your solution for bathroom renovations on Long Island. Let us help you get the bathroom that's right for you–call now to learn more.
Custom Bathroom Design Service
When it comes to the needs of your family, one size really doesn't fit all. So why should you settle for cookie-cutter bathroom remodeling design? At Convenient Kitchen and Bath Design, our bathroom contractor team is here to provide fully customized bathroom design. Our goal is to help each of our customers create the bathroom remodel that's right for their family, home, and needs–and unlike some bathroom remodelers, we recognize that what works for one family, doesn't necessarily work for the other. Whether you need special accommodations for an aging or special-needs family member or you have specific desires in terms of layout, finishes, and style, Convenient Kitchen and Bath Design can draw up a bathroom remodel plan that is right for you. We'll sit down and listen to your needs, questions, and concerns and then base our designs around you and your requirements. From creating a functional bathroom for the kids to share to designing a relaxing master bath retreat, our bathroom remodeling contractors can help you get the newly remodeled bath that's right for you!
And with our 3D design technology, you can even see your bathroom renovation before we ever start the project. Using the latest computer imagery, our 20/20 bathroom design process lets us show you what your bathroom remodel will look like ahead of time. This can help you envision what the final results will be as well as make changes to get the space that's right for you. Let the Convenient Kitchen and Bath Design team bring you the absolute best in bathroom remodeling: call or e-mail us today to get started with your free design estimate.